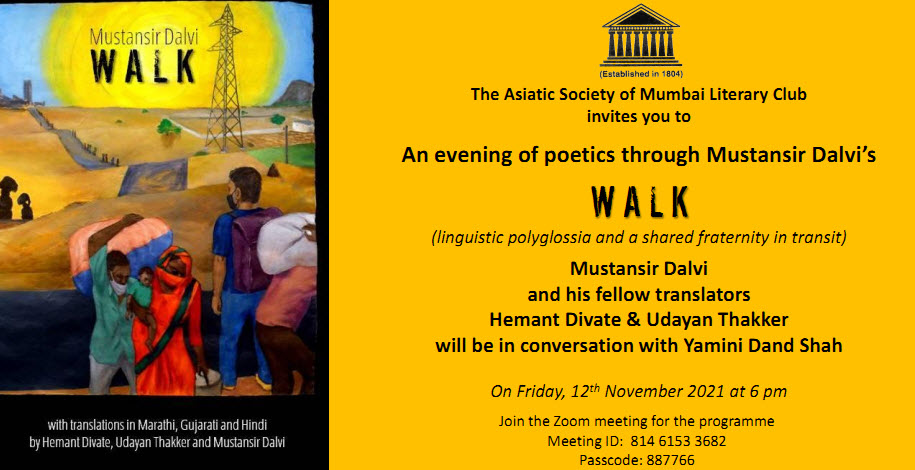 The Literary Club of the Asiatic Society of Mumbai invites you to an Online talk: An evening of Poetics through Mustansir Dalvi's "Walk": Linguistic polyglossia and a shared fraternity in transit  Friday 12th November at 6 pm on Zoom
The Literary Club of the Asiatic Society of Mumbai is delighted to invite you to an evening of poetics through Mustansir Dalvi's latest collection of poems "Walk."   We will host Mustansir Dalvi and his co- translators Hemant Divate and Udayan Thakker, they will recite poems from Walk and be in conversation with poet Yamini Dand Shah.
To quote Yamini: "Walk is a reflection on the migrant crisis amidst the lockdown across various states in 'unhiki zubani.' There are regional ways of enunciation and venting emotions: 'Chalvaliche lakshan', proletarian modifications to language, 'Kavita na marge.'
Solidarity runs high in cabling the intersubjective and the collective, it is a moving convoy of the human condition."
According to author Maithreyi Karnoor:  "(The) Year 2020 is Pedestrian Maharaja of our times and Mustansir Dalvi is its court chronicler.  This collection erases the gap between souls and soles."
The  discussion will  take  place  in  four  quintessential  Mumbai  languages  as  incorporated  in  this quadrilingual book, inviting listeners attuned to Marathi, Gujarati, Hindi and Anglo "phonic" nuances.
Please join us for this event.   We look forward to your active engagement and contribution to the session.  The Zoom link is given below:
Join Zoom Meeting
https://us02web.zoom.us/j/81461533682?pwd=V3JJNGtKNmpxbGRJOUd4SlByUGFLdz09
Meeting ID: 814 6153 3682       
Passcode: 887766
- Meenal Kshirsagar , Vice President of the Society  & Chairperson - ASM LitClub   
- Dr Usha R Vijailakshmi, Officiating Hon. Secretary The Asiatic Society of Mumbai